Helen Oon meets Antony Worrall-Thompson, the ebullient and likeable chef whose instinctive understanding of how to promote the flow of good ch'i may well have contributed to his phenomenal success
[dropcap]A[/dropcap]ntony Worrall-Thompson is currently a household name in the UK as a celebrity chef on programmes such as Ready Steady Cook, the BBC's Food And Drink programme and many one-offs on other television channels. The upbeat, on-screen delivery of his culinary skills is tinged with a sense of humour that makes him very popular with the viewers. In an unassuming manner, unfazed by his fame, he talks about his recipe for success at his restaurant Woz, situated on London's trendy Portobello Road.
Antony's culinary skills are mostly self-taught and he has been a chef since 1981. Four years ago, he went to train at the Oriental Cookery School in Bangkok to learn Thai cooking which he occasionally cooks for the lunchtime crowd or for demonstrations. However, his restaurant generally features Mediterranean, Moroccan and Italian cuisine. When asked about the menu, he declares, 'We do not have a menu. We cook different dishes every day. Customers pay a fixed price of £24.95 for a five-course meal which includes coffee and mineral water.'
That sums up the kind of restaurant it is – as bold and original in concept as is its decor from a man who is one of Britain's leading epicurean stars.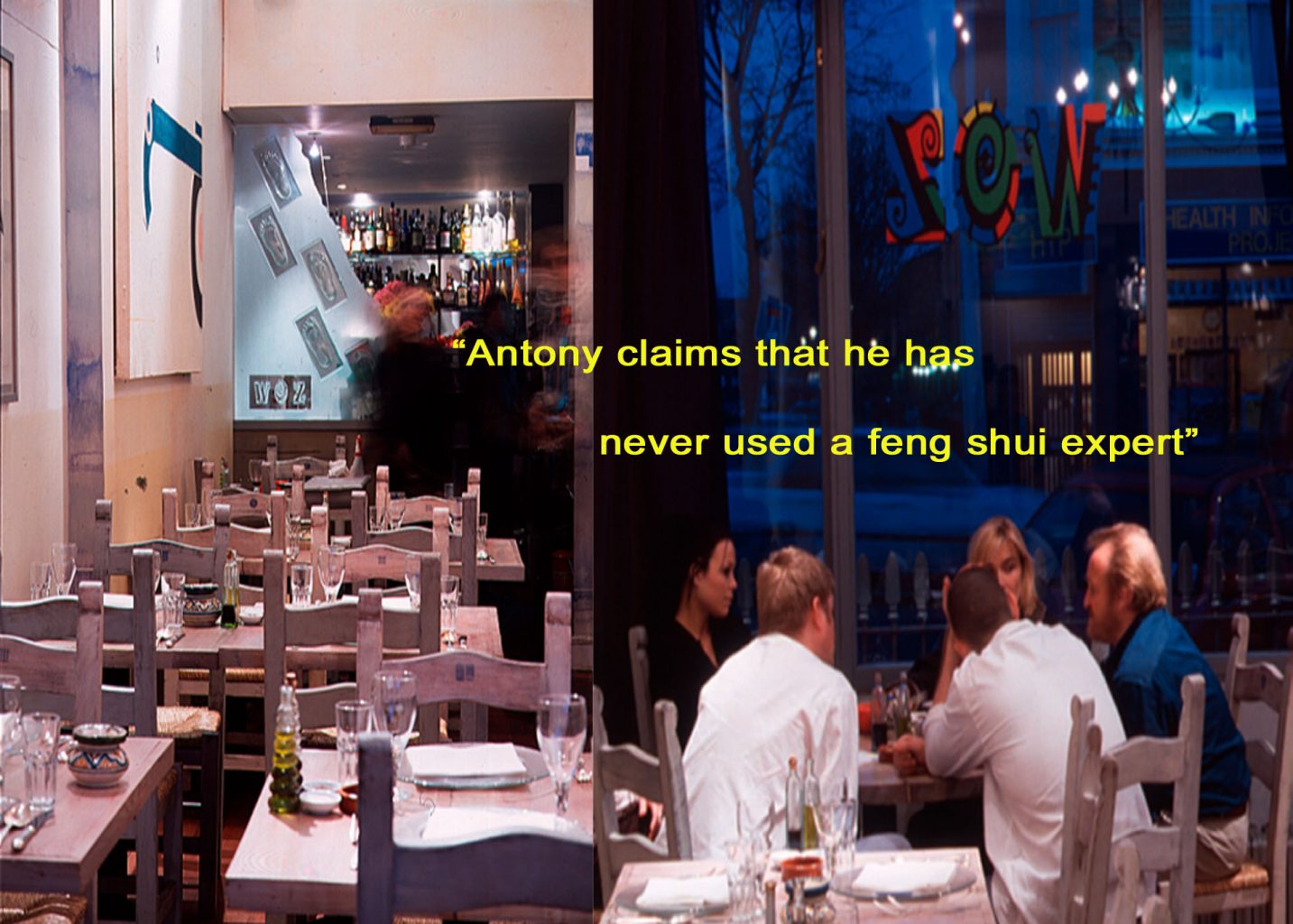 Worrall Woz Here
Halfway down Goldbourne Road, adjacent to Portobello Road, thronged with people visiting the myriad of market stalls and quaint antique shops, Woz is nestled discreetly between two shops, narrowly missing a T-junction across the road. The shop front bears the word Woz in bright psychedelic colours echoing the zany nature of the restaurant. Antony explains that the restaurant is actually called Woz, not only because the media has grown fond of using it, but because it really is his nickname. This boutique restaurant has an informal air about it that greets you as soon as you walk through the door – with pop music blaring from the loud-speakers.
At first glance, the restaurant seems to bear the stamp of a feng shui expert, yet Antony claims that he has never used one to give advice in the restaurant, although he is a keen believer in the subject. Everything seems to fall into place here as is often the case with a building enjoying good feng shui luck.
Modern art, semi-abstract portraits and coloured pressed-glass bottle shapes adorn the walls. It is very reminiscent of a contemporary art gallery with pale cream and light yellow hues and light wood panelling giving the illusion of space. As Antony was born in the year of the Metal Rabbit, this colour scheme is particularly auspicious for him. A touch of artistic flair in tandem with practicality confronts the customer the moment they enter the door. A thick deep purple velvet curtain, suspended from a circular curtain rail, shrouds the entrance to the restaurant effectively blocking the draught from the street. Although this revents the smooth flow of ch'i from entering the premises through the front door, the constant movement of customers does allow the energy to 'seep' in. The large picture windows and track lighting bathe the room in a golden glow, further attracting positive energy into the room and creating an alluring ambience.
Based on Antony's natal chart, in accordance with the pa kua and lo shu formulae, he belongs to the East House group which makes North, South, East and South-east his four auspicious Directions. The orientation of the front door of the restaurant is South-east, which is his fourth Best Direction, or fu wei. This indicates that he will make headway in the self-improvement arena as well as being protected from bad luck. In addition, this Direction also increases the chances of Antony benefiting from clearheadedness when making business decisions. All this seems to be working in Antony's favour as the restaurant is currently enjoying great success.
A Life Of Good Fortune
Fortune seems to smile on Antony. With a successful career as a celebrity chef and a thriving restaurant business, he still manages to enjoy a blissful domestic life with his wife Jay and their two young children Toby and Billie. In between hectic schedules, Antony is planning to renovate their new house in which he is keen to apply the principles of feng shui. He says, 'It is a fascinating science and I am really getting into it. I'm just about to redo my house so I shall be paying attention to every room without destroying the ambience and decor.'
If the decor of his restaurant is a yardstick of his instinct, no doubt his home will also benefit from the auspicious feng shui life-style he has been enjoying – albeit unknowingly. Fortune will continue to cook up some special treats for this much-celebrated chef with the golden ladle!
Update
| | |
| --- | --- |
| | According to Chinese metaphysics, Destiny is based on three types of luck, also known as The Cosmic Trinity. The three types of Luck are Heaven Luck (the luck you are born with BaZi), Earth Luck (Feng Shui and Environment) and Man Luck (the luck you make for yourself by hard work). In 2009, Worrall Thompson was forced to close four restaurants after being badly hit by the recession but he has retained three eateries – The Greyhound pub and two grill restaurants in Kew and Windsor. |