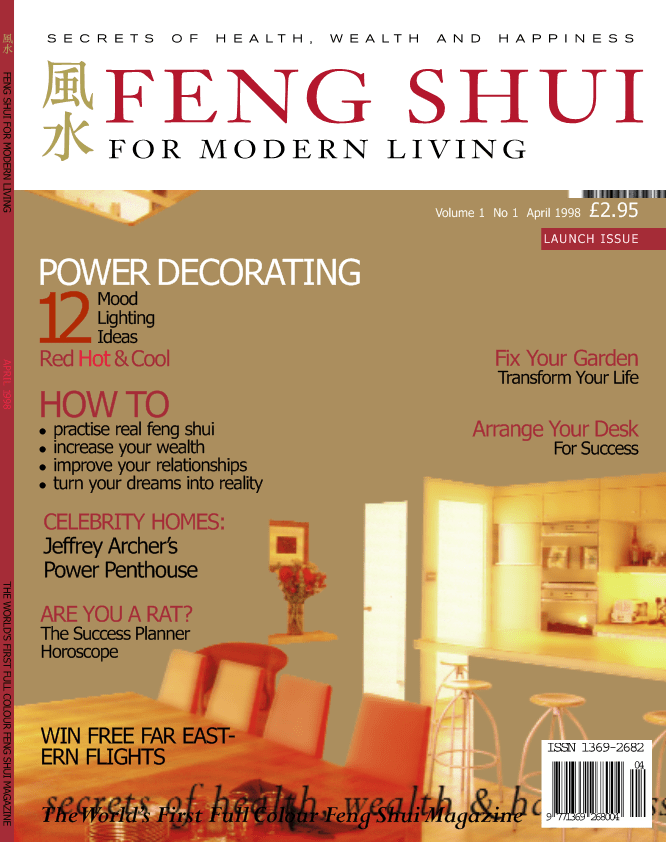 Our History
Grand Master Dr. Stephen Skinner published Feng Shui for Modern Living magazine for 30 monthly editions in large format full colour between April 1998 and October 2000. At its peak this now famous magazine sold more than 121,000 copies per month, making it a major magazine, not just a specialist interest magazine.
Unfortunately it closed, despite continued interest and an intensely dedicated readership, because of a lack of support by its original funding partners. Later an 'orphan' edition number 31 was published a few years later by an American publisher.
Feng Shui for Modern Living, the Chinese language edition was published for 34 monthly editions successfully from offices in Taipei, Taiwan. It incorporated articles from the English edition plus local Chinese feng shui articles by well known Chinese masters.
"Welcome to the world's first full colour feng shui magazine – Again !"
Now, thanks to modern technology and the internet, "Feng Shui for Modern Living" enters its second incarnation, as an online magazine. We will publish progressively the best of all 30 Editions from Volume 1 of Feng Shui for Modern Living.
All of these articles are as relevant now as the day they were published. Such is the timeless nature of feng shui and the excellent contributors who helped make the printed magazine a success 20 years ago.
Also new Volume 2 Editions are now available packed full with new articles by leading industry experts from around the world.
"Life is not about being sure of yourself and your own ideology, life is about respect, experiences and trying to understand things"
Premium Media Brand
FSML is a premium media brand recognised globally as a leading lifestyle platform.  At FSML, we believe Classical Feng Shui from Asia has finally come of age in the West and is deserving of its very own dedicated forum. This media platform brings you compelling stories, industry news, interviews, and luxe lifestyle and interior insights targeted at the Corporate and Residential property sectors. FSML leads the charge as a premium global media platform with unique website, social media channels, and video content.
Education
At FSML, our charter is to both educate the public on the benefits of Classical Feng Shui and Traditional Chinese Medicine while providing a free media platform for leading industry experts to publish globally.
Remember:
"The Universe is under no obligation to make sense to You"