She works for a design agency, he is a TV researcher and what they have in common is their flat share arrangements. Although living a one room existence can be frustrating at times, it is still possible to apply feng shui despite the space constraints
Feng shui is often associated with large family homes but it can also help people living in apaertments and small flats. When Nina recently ended her three and a half year relationship she found herself looking for alternative living arrangements.
Up until this point she had been living with her ex-boyfriend in his two bedroom apartment in Hammersmith. It was through a local newspaper that she met Stuart who advertised for a flatmate to share the two bedroom flat he was living in near Shepherds Bush. Despite being thrown together out of necessity, they soon found they had more in common than they first thought.
Feng Shui for Modern Living examines Nina and Stuart's bedroom layouts and offers some practical recommendations on how they can transform their lives by using some simple feng shui principles.
Nina
Nina is a graphic designer who specialises in designing CD and book covers, brochures and packaging. She started her current job after completing a diploma in design over a year and a half ago and hopes to continue working there for some time. Nina thoroughly enjoys her job and would like to see herself promoted to higher profile portfolios in the next few years once she had developed her design skills.
Due to the end of her recent relationship, she has no desire to start another relationship in the foreseeable future opting instead to focus on her career and to increase her financial prospects. She would like some more time for her social life as well as possibly travelling extensively sometime in the future. For now, however, she wishes to continue working in a stimulating environment and build her reputation as an innovative designer.
Nina's Bedroom Before
Nina's bedroom is in the North-east area of the flat which represents the sector governing Knowledge & Education according to the Pa kua Lo shu formula. Part of this location is missing because there is a protruding corner in the North-east area of the room. If she wants to improve her knowledge opportunities then she should put full length mirrors on the walls to 'restore' the corner.
There are still unopened boxes from the move in the South sector which will be stored away once Nina can afford to buy a storage system. The large windows are draped with heavy cream curtains that are slightly ripped and poorly fitted. The carpet is blue with flecks of white through it and the walls are magnolia in colour which Nina would love to repaint.
A large rectangular mirror sits above the fireplace overlooking the bed, whilst to the left is a free-standing wardrobe in the South-east sector. A TV and stereo sits on the other side of the fireplace. Nina's study area is next to her bed in the North-west sector and faces North out the window. There are no pictures on the walls because Nina prefers it that way.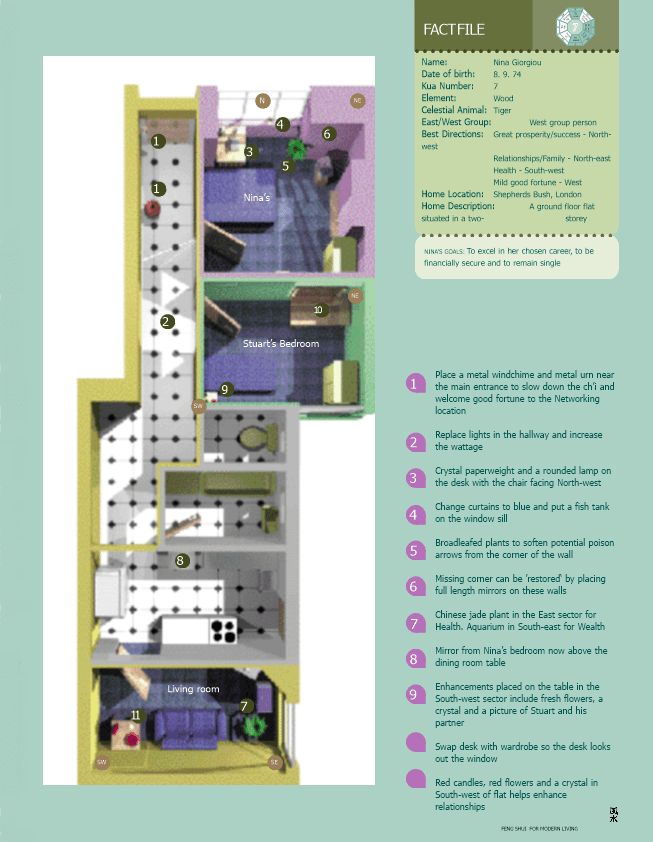 Nina's Bedroom After
Nina's main priority is to enhance her career prospects and to network with her peers and mentors in the graphic design industry. The Career sector is North (Water) and the Networking sector is North-west (Metal). In order for Nina to activate the North sector she should change her curtains to blue ones (symbolic of water) and perhaps add a small fishtank by her window. To stimulate the Metal in her North-west corner she could hang hollow metal windchimes in this corner of her bedroom.
To help networking for both of them she could put metal windchimes and a metal urn in the North-west sector of the home near the front door. They will also welcome good fortune into the home.
Nina was eager to paint her bedroom walls and it was suggested that mauve or lilac would be ideal as it symbolised creativity and would also create a calm and relaxing environment for her to sleep in.
Besides enhancing her career prospects, Nina wished she could also increase her bank balance in order to fund a new top of the range Apple Macintosh computer. The best way for her to do this is by tapping her Wealth location which is in the South-east location of her room. Putting a small Chinese jade plant in the South-east corner of the house, which is the living room, will also help. Another popular enhancement is to tape three Chinese coins tied with red thread to Nina's bank deposit book.
It was also strongly recommended that she move the mirror from above the fireplace so that it's not facing the bed and place it into the dining area facing the dining table to symbolise an abundance of food in the house.
Nina's Facing Directions
Looking at Nina's factfile panel you can see that she is a West group person with her best personal direction being North-west. Ideally she should work at her desk facing this direction. Her bed head already points in a West direction, which is her fourth best direction.
Stuart
Stuart is a 32-year-old TV researcher who has worked in the industry for seven years. Although he enjoys his work, he would like to branch out into film but lacks the right contacts to achieve this. His current long-term relationship has been under strain because of his frustrated efforts to change career direction, and this is also taking its toll on his health with constant headaches and recurring flu.
Stuart's Bedroom Before
He has a double bed up against the wall and overlooking the bed is a large Matisse drawing of a woman. In the South-east corner is a window facing South which is partially obscured by a wardrobe. There is a desk in the North-east corner. Both the carpet and the walls are blue. Stuart mentioned that he would like to change the colour of the walls if possible because he thinks the room feels too cold.
Stuart's Bedroom After
Although Stuart's main focus at the moment is his career change, he felt that his relationship has deteriorated in the process and would like to rekindle the flame between him and his partner. In order for him to do this he must first move his bed away from the wall, but keep its head facing West, as this is his personal Relationships and Marriage direction (see Fact file for Stuart).
By placing the bedside table between the wall and the bed it provides a space in the South-west corner to place items such as fresh cut flowers, red candles, a crystal, a picture of the two of them together and a light .
These will all activate the South-west sector of the room which symbolises Relationships. By placing similar objects on a table in the South-west of the house, which can be found in the living room, the Relationships and Marriage sector will be further activated for all the occupants of the house although this might not be what Nina wants.
For Stuart to increase his chances of meeting helpful people he needs to activate the Networking direction which is North-west. Unfortunately this corner is behind his door. Its Element is Metal so hollow metal windchimes hung in this corner will help activate it.
We suggest he swaps the position of his wardrobe and desk so that ch'i can flow easily out his window, and he has a view from where he works. Ideally his desk should face North-west which is clearly impossible in his room. South is mildly inauspicious for him but better than facing a blank wall to the North.
He should repaint his room a warmer colour rather than cold-inducing blue to boost his health. Stuart could use earth tone colours such as brown or beige in soft furnishings, duvet covers and curtains to further enhance this. Of course, the best way to stay healthy is to eat properly, exercise regularly and learn to relax and reduce stress. Stuart feels that his anxiety will decrease once he makes some progress with his planned career changes.